Bananarama's Sara Dallin and Keren Woodward celebrate the group's 40th anniversary and their achievements speak for themselves. Two Band Aid appearances, an entry in the Guinness Book of World Records as the most successful female band worldwide with the most charting singles, many of which were international hits, four hitting the US Billboard Top 10 including a No.1 with Venus. To date the duo have had 30 Top hits. They have released 12 albums and sold 30 million records.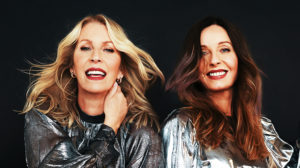 ---
"Bananarama's DIY-style and attitude inspired a generation, obliterating all previous notions of what a girl band was or could be."
---
Bananarama formed in London in the early 80s, Sara Dallin and Keren Woodward had been living in the YWCA which was about to close so were looking for somewhere cheap to live on a students wage. After a chance meeting with Paul Cook (ex Sex Pistols) at the club Studio 21 their problem was solved, he offered the pair a room above the Sex Pistols old rehearsal space in the legendary Denmark St. Charing Cross. The walls were covered with Johnny Rotten's drawings of Sid and Nancy and Dallin and Woodward added their own names to the mural . The 17th century townhouse is now a Grade II listed building.
The teenagers used to come in after clubbing and plug the guitars in and party. Dallin and Woodward had their first taste of the music business recording demos with bands in the studios of Denmark St (previously used by the Rolling Stones, Bowie, Small Faces, Elton John). They also learnt to play bass and did backing vocals for fun for Paul Cook and Steve Jones new band 'The Professionals' and visited Richard Branson's Manor Studios in Oxford for the recording of the album where they had dinner with the man himself and Lemmy from Motorhead. A whole new world was opening up !
Sara and Keren's first appearance on stage was at the Camden Palace, London, singing backing vocals for their friend Vaughn Toulouse's band Department S.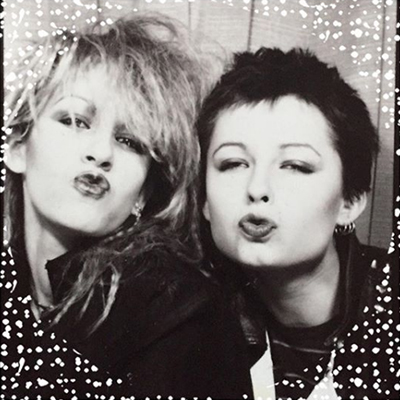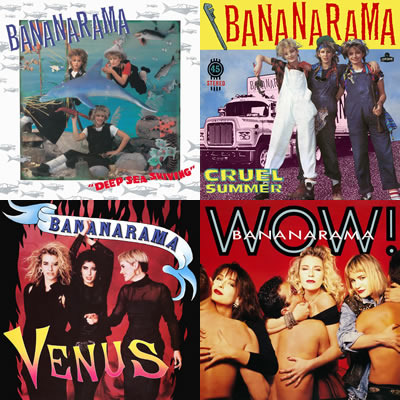 A singular talent for directing their own fate teenagers and childhood friends Sara Dallin and Keren Woodward met Siobhan Fahey when Dallin attended the London University of Arts (London College of Fashion) to study journalism. Drawn together by their similar distinctive look, monkey boots and back combed hair and a love of Patti Smith they became fast friends. Woodward was working at the BBC. The three of them started writing songs and jumping on stage with their art school friends bands. Supporting Iggy Pop at the 'Rainbow' Finsbury Park on one occasion.
Their first demo was a cover of 'Black Blood's' AIE A Mwana and sung in Swahili which they learnt phonetically. The band didn't have a name at this point but they thought Bananas sounded tropical and Dallin, a big fan of Roxy Music looked through their song titles and found 'Pyjamarama'.
The track was released as a demo and reached No 92 in the UK charts. One early radio play from legendary Radio 1 DJ John Peel and it came to the attention of Terry Hall (ex Specials) and his new band Fun Boy Three. He contacted them and asked them to sing on some tracks of their new album one of which was It Ain't What You Do their first Top 5. The Fun Boy Three returned the favour by singing on Bananarama's first hit Really Saying Something.
The trio started writing and demoing songs and for the next five years Bananarama was everywhere and so were their hits. (Shy boy, Nathan Jones, I Want You Back, Love In The First Degree) They became international hot property when hits Cruel Summer , (which appeared in the film 'Karate Kid'), hit the US Billboard Top 10 with the video shot in NYC, I Heard A Rumour No. 4, Venus No.1 and Robert de Niro's Waiting paved the way for the now legendary meeting between the girls and the Hollywood superstar.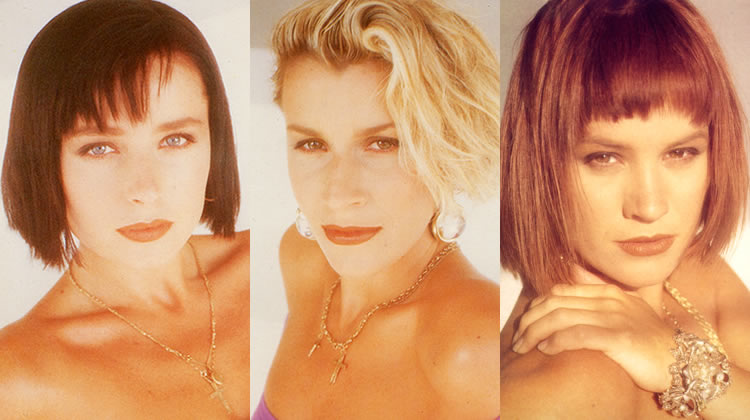 Identifying the right producers/collaborators at the right point in their career has always been their strong point from Jolley and Swain who produced their debut album DEEP SEA SKIVING and follow up 'BANANARAMA' to Stock/Aitken/Waterman who produced the Platinum selling WOW! to Dallin and Woodwards albums ( Fahey left in early 1988) POP LIFE produced by Youth (U2, Paul Mc Cartney) and DRAMA produced by Murlyn
Siobhan Fahey was replaced by Jacquie O'Sullivan in 1988 and the trio embarked on their first wildly successful world tour. O'Sullivan recorded the critically acclaimed album POP LIFE with Dallin and Woodward in 1991 including the hit singles Only Your Love & Preacher Man.
After this album Sara and Keren decided to continue as a duo, PLEASE YOURSELF 1993, produced by Stock & Waterman, ULTRA VIOLET 1995, produced by Gary Miller, EXOTICA 2001, by French producer Pascal Caubet, DRAMA 2005, written and recorded in Stockholm with Swedish hitmakers Murlyn (singles Move In My Direction & Look On The Floor Top 20's UK, US Billboard dance No. 2 and VIVA 2009, home to the thumping club hit Love Comes, with celebrated producer, composer, songwriter and remixer Ian Masterson, whose credits include work with Girls Aloud, Kylie Minogue and the Pet Shop Boys.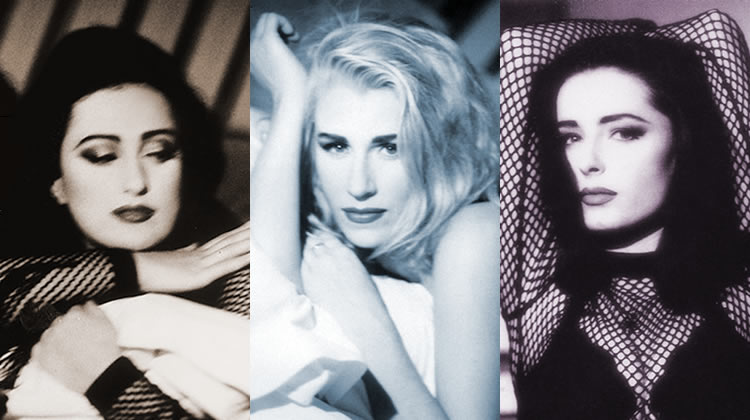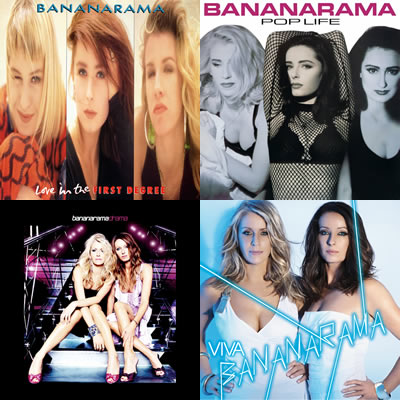 In 2012 Bananarama appeared in the hit ITV comedy Benidorm.
They toured the US playing 10 dates at the Hard Rock Cafes in support of the Pinktober breast cancer awareness charity and released a brand new 4 tracks digital EP called NOW OR NEVER. February 2016, saw them tour Australia and Japan.
In 2017 Dallin and Woodward asked Fahey to join them for a one off 'Reunion Tour' of the UK . This once in a lifetime opportunity (Fahey had never toured live with Bananarama) sold out immediately and 10 more dates were added to the original 15. They played a handful of US shows and UK/European summer Festivals including 'British Summertime' in Hyde Park with Van Morrison and Michael Buble and 'Lytham Festival' with Nile Rodgers. (Click here for more info about The Original Line Up Tour)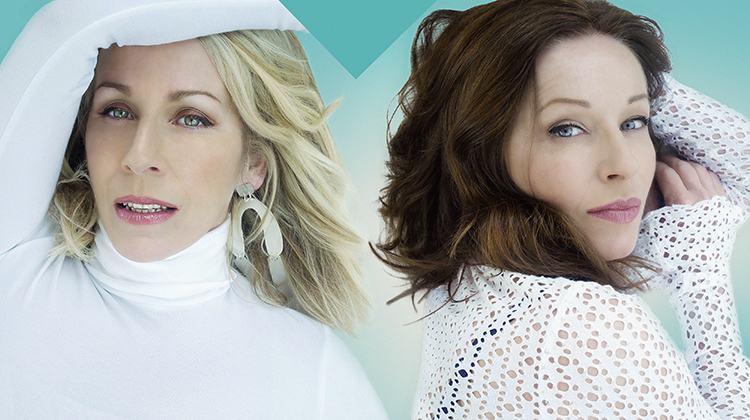 September 2018, Sara Dallin and Keren Woodward return as a duo and to kick start the new year they announced shows in LA & San Diego in January 2019 and an Australian Tour in February 2019.
19th April 2019 sees the release of the their 11th studio album IN STEREO written and recorded with Ian Masterson.
In Stereo, is their highest-charting album since the late '80s and includes the hit singles Stuff Like That and Looking for Someone.
It was followed in the spring by a UK tour of intimate venues and incorporated Q&As with the audience. The band performed the hits as well as material from the album IN STEREO and songs they never performed on stage before. A live album of the tour was release on November 2019 called LIVE IN STEREO.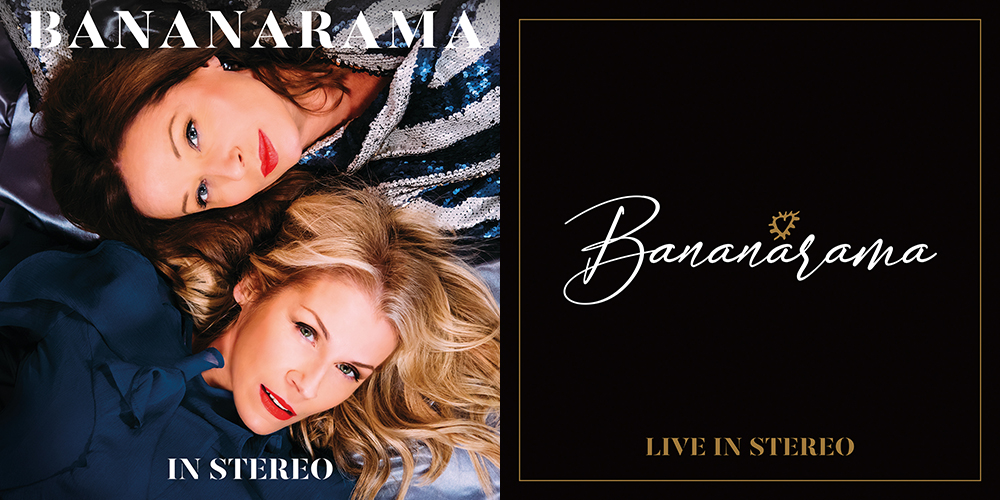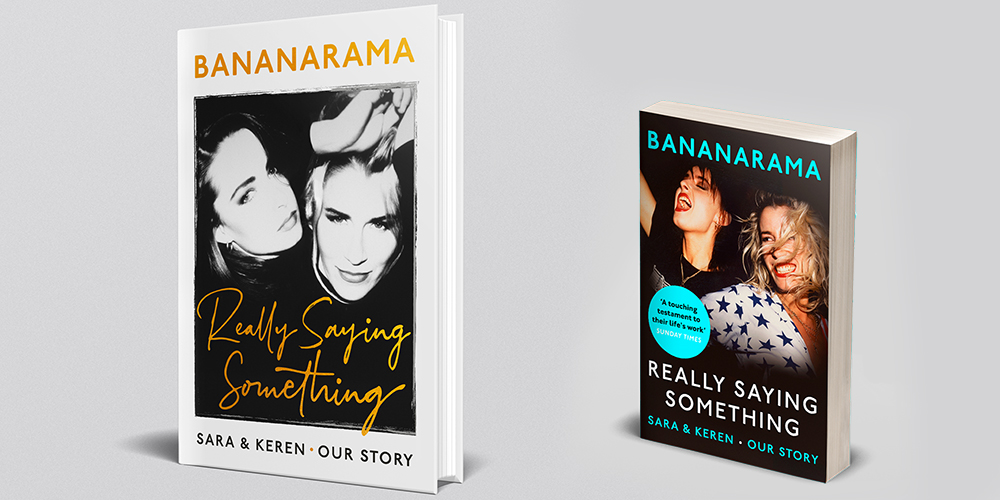 Bananarama have always kept things personal. Published on 29th October 2020, their joint autobiography Really Saying Something: Sara & Keren – Our Bananarama Story reminds us that this group is built on a lifelong friendship. It also tracks Sara Dallin and Keren Woodward's remarkable journey from schoolgirl punks to global success. It's no exaggeration to call Bananarama one of the great organic success stories in British pop.
Really Saying Something  is honest, revealing & hilarious as it charts the story of Bananarama as well as their life-long friendship. Paperback was released on 2nd September 2021.
2022 saw the release of brand new album MASQUERADE.
Sara & Keren reunited with producer Ian Masterson and the result is a tremendously entertaining electro-dance album that sounds both fresh and quintessentially Bananarama.
They originally conceived this latest project as an EP, but when the pandemic wiped out their live schedule in 2020, they carried on writing and MASQUERADE grew into a sleek and cohesive 11-track album. "I love writing songs it's probably my favourite part. Shutting myself away and coming up with ideas and then telling a story in less than 4 minutes, it really is quite an art , says Sara. "Arranging the music, vocals and harmonies really is our forte", Keren adds.
The album is released on 22nd July in a limited edition run of blue and red vinyl as well as purple cassette, Digipack CD and digital formats, and is available for order now.
The first single Masquerade was released on 15th june 2022. The track is a pulsing slice of club pop with a hint of Pet Shop Boys in its musical DNA and lyrics that tap into our growing awareness of identity. (Listen here)
"When we were all in lockdown, there were a lot of conversations happening to do with inclusivity, diversity and gender and racial equality," Sara explains. "And that kind of led to this idea of 'masquerade': how you present yourself in different ways depending on the situation, but really, you just want people to live how they want to live. It's a song we're really very proud of."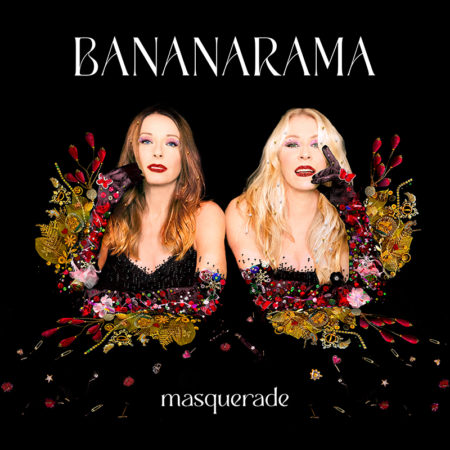 ---
"Bananarama's creative flame is burning brighter than ever"
---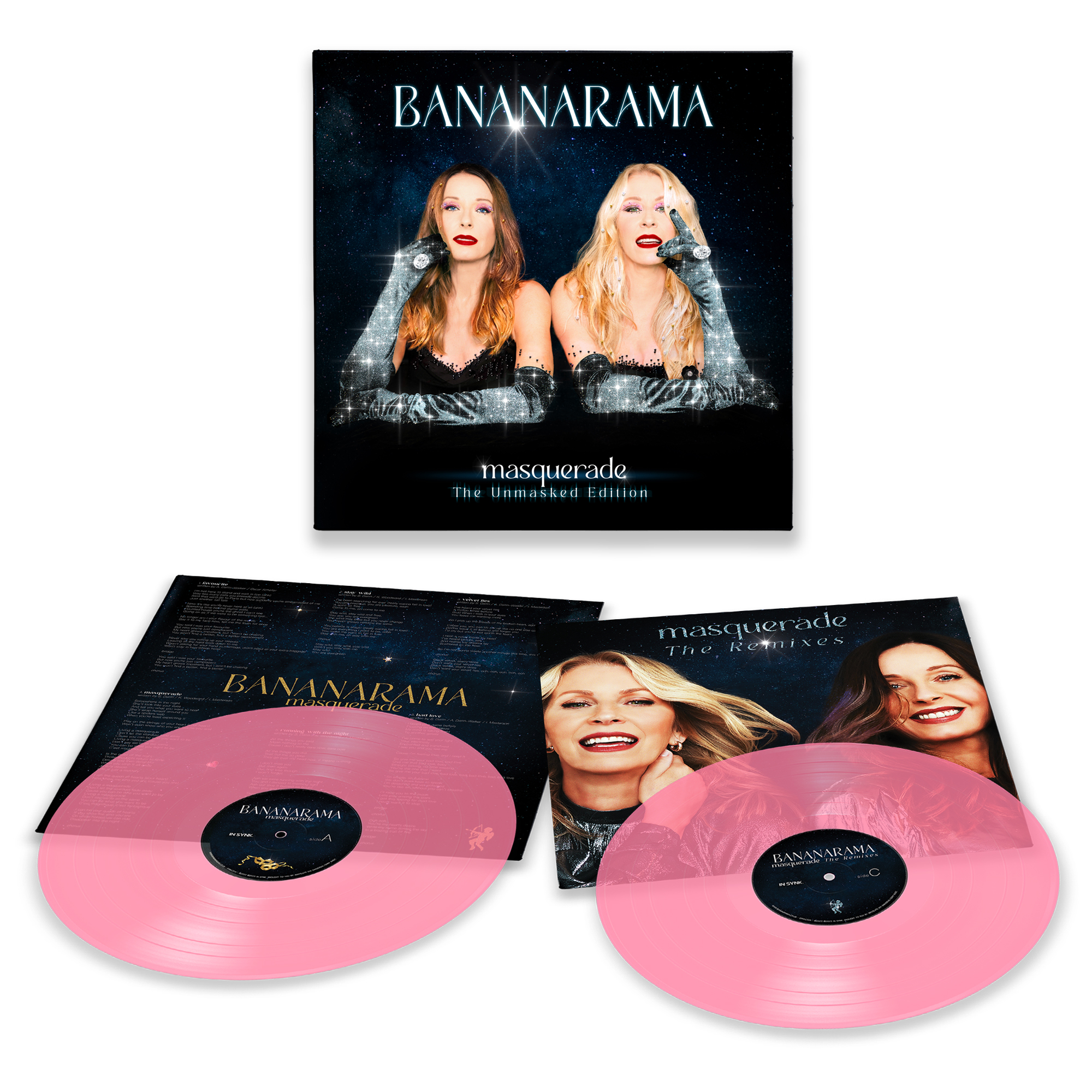 On April the 7th, 2023, a limited edition deluxe of the album MASQUERADE called The Unmasked Edition was released on clear pink double Vinyl and digital including 6 Exclusive Remixes. (Remix Edits available on Digital / Extended Remixes on clear pink double vinyl)
To continue the celebration of the 40th anniversary of the worldwide hit single Cruel Summer, a new version called 3AM Mix was released on July the 13th, 2023 and a Boys Noize remix of the worldwide hit single Venus was released on August, the 18th, 2023.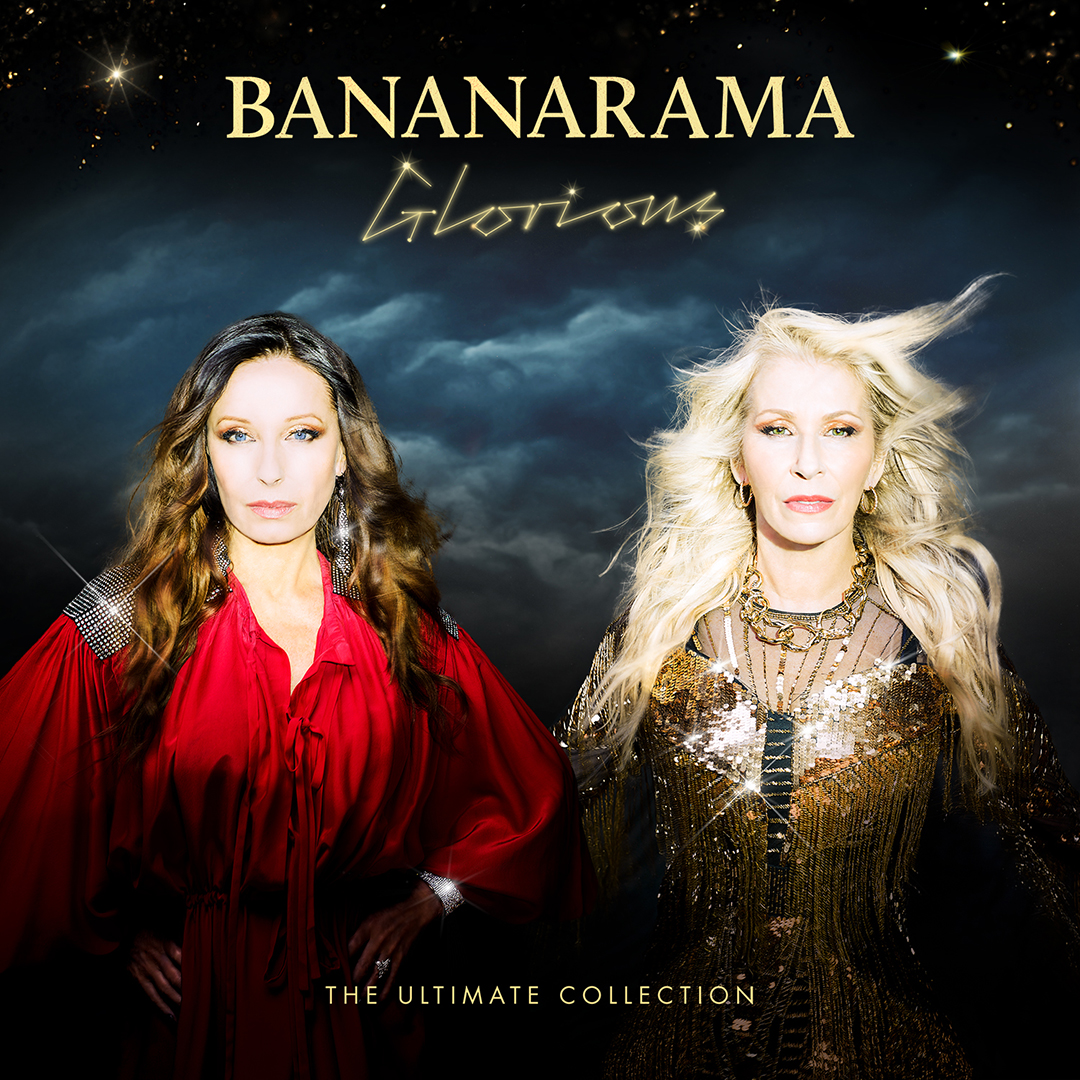 Bananarama celebrate over 40 years at the top with the release of 'Glorious - The Ultimate Collection' on March 8th, 2024. They launch the album alongside the euphoric new track 'Feel the Love', which continues the stellar form they established with 2022's 'Masquerade'. In addition, they also announce details of a special London Palladium show on Wednesday 3th April, 2024.
'Glorious- The Ultimate Collection' effectively charts the lives of founder members Sara Dallin and Keren Woodward via their personally curated career highlights. It takes them from the early days of breaking through with 'Really Saying Something' with Fun Boy Three through to their phenomenal '80s success ('Cruel Summer', 'Venus', 'Love In The First Degree', 'Robert De Niro's Waiting' and many more), '90s ('Only your Love', 'Preacher Man', 'Movin' On' and 'Last Thing on My Mind') and into 2005 when they were riding flying high in the singles chart with 'Move In My Direction' and the US dance chart smash 'Look on The Floor (Hypnotic Tango)' 
But the Bananarama story certainly didn't stop there. Touring and recording constantly, they founded their own IN SYNK label and embarked upon a remarkable resurgence which saw the 2019 album 'In Stereo' introduce them to a whole new generation with a show-stealing set at Glastonbury and win Classic Pop's Best Pop Album award. Last year's 'Masquerade' was stronger still and held special personal significance for the duo as Sara's daughter Alice co-wrote a handful of the album's tracks. Sara and Keren also covered one of Alice's own songs, 'Favourite', which is included here in this collection. And in addition to 'Feel the Love', the collection includes another brand-new track in the shape of the pulsating 'Supernova' as well as a new version of 'Cruel Summer (3am Mix)'.
Sara says, "We wanted this to be a unique collection, a celebration of all the twists and turns in our career. We compiled endless lists of songs, album tracks and hit singles and whittled it down to forty: our favourite tracks from the past four decades."
Keren adds "I feel the collection of songs we have amassed over the last four decades hopefully speak for themselves… Putting the music together for this project... made me realise how much we have achieved."
The new single
'Feel the Love'
is the perfect hybrid between the classic and contemporary eras of
Bananarama
with sweeping vocal harmonies,
pulsating electro and
a typically larger-than-life pop hook. As
Sara
notes, "
'Feel the Love'
is
about believing in yourself,
focusing on what you want and not listening to
negativity."
Keren
continues, "It
was a process of making something soaring and uplifting. And we've gone to town with the harmonies, which we love." 
'Glorious - The Ultimate Collection' will be released on collector's triple vinyl and double CD. The official store exclusives include a deluxe vinyl and deluxe 3CD edition, both of which are accompanied by a book which features an introduction by broadsheet journalist Fiona Sturges, articles by Sara and Keren, and an in-depth exploration of Bananarama's relationship with fashion and music by writer and trends expert Katie Baron. It also includes stunning still photography of many of Bananarama's outfits and memorabilia from their personal collections. 
Digital formats and the deluxe 3CD edition feature an array of bonus remixes and alternate versions of classics, deep cuts, and recent favourites, with reworks by some of the world's best contemporary producers and DJs including Boys Noize, Krystal Klear, The Reflex, Initial Talk, Luke Million and more. 
Join us in celebrating our ultimate hits with THE ultimate party on Wednesday April 3rd, 2024 and Thursday 4th April 2024 at the London Palladium. GET YOU TICKETS HERE