THE ORIGINAL LINE UP TOUR
Your only chance to see SARA, KEREN and SIOBHAN live
True to their original ideology, the idea of reforming the original Bananarama line up for a string of live shows in 2017 began at a kitchen disco in Siobhan Fahey's home two summers ago. Where else? 'It was such a funny night,' says Keren. 'The girls came over for dinner,' says Siobhan. 'We had a barbecue, drank some wine and ended up, as usual, dancing around the kitchen. I felt like I'd come home'.
'We were singing and dancing into the small hours' recalls Siobhan, of that fateful night. ' arms around each other's necks...it was quite emotional . Sara said to me, 'you have no idea how great it is performing on stage and how much people love our songs.' 'And you would love it,' says Keren, turning to the other two, remembering that this moment is now alive and in the present tense. 'You will love it.' Siobhan left the night pondering a new possibility of tying up loose ends; of the unfinished business she left behind in the first few years of Bananarama's brilliant thirty something year career. Unforgettable pop genius that has reverberated back and forth through the cultural landscape ever since, as a high watermark of DIY pop music , fashion and women refusing the compliance option and doing business their own way.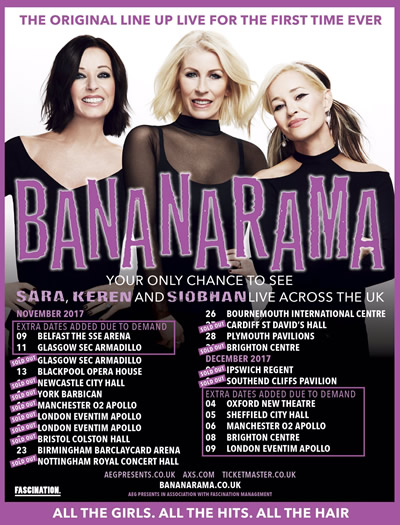 ---
"In the woozy haze of that summer twilight, the threesome began imagining the reformation..."
---
'Siobhan had never toured with us,' says Sara 'she left the year before we embarked on our 1989 World Tour with Jacquie O'Sullivan, which was amazing. I never really thought about working with Siobhan again until that night when we discussed maybe doing a Xmas show but we never got round to it.
Keren and I have been making records and touring around the world for the past 20 odd years and love being on stage. 'We had just come back from Australia and Japan ' continues Keren 'and this year we just wanted to do something different. I guess it's all about timing.' 
In the woozy haze of that summer twilight, the threesome began imagining the reformation they never thought would happen. Sometimes, it's just about waiting for the right time to arrive. Since their seismic last TV performance with Siobhan at the Brit Awards in 1988, celebrating their entry into the Guinness book of records as the most successful girl group of all time, clocking up 30 hit singles, Sara and Keren have continued Bananarama as a very successful duo for 28 years, releasing six studio albums and touring worldwide with their band.
Meanwhile Siobhan went on to form Shakespears Sister. She has recorded four albums to date under that name and enjoyed a string of top 40 hits, including the iconic "Stay" which remained at number 1 in the UK for a staggering eight weeks.
Though Bananarama own a corner of the 80s every bit idiosyncratic, influential and compelling as Pet Shop Boys or The Smiths, Sara and Keren had never been on the road with their oldest friend, comrade and cofounder of the group.
Sara Dallin and Siobhan Fahey met in the registration hall at the London College of Fashion in September '80, Punk has peaked and they were signing up for a diploma in Fashion Journalism. 'I was the youngest there,' I'd just left school,' says Sara.
" I saw Siobhan - we looked very similar, same hair, same clothes, same monkey boots and discovered we both loved Patti Smith. There was an instant connection.' For lunch, they would visit the Italian restaurant Ponti's off Oxford Circus ('still there,' notes Sara) or scam their way into the subsidised BBC canteen where Sara's best friend Keren worked in the pensions department. 'I went in for an interview for this really tedious job in a dress that my mum made me and from then on dressed like a punk.'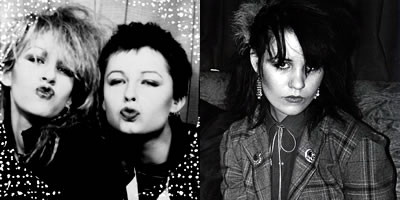 ---
"There was this post-punk attitude of breaking everything open and defining your own life. Why does it have to be bass, drums, guitar? Lets do it our way"
---
Before long, they were living together. The band formed. There is not yet a commemorative blue plaque on the wall of the council flat in Lamb's Conduit Street where Bananarama started their amazing pop life, but that doesn't mean there shouldn't be. 'I don't think any of us wanted to conform to a career path or get trapped in the system,' says Siobhan, of the earliest days of Bananarama. 'There was this post-punk attitude of breaking everything open and defining your own life. Why does it have to be bass, drums, guitar? Lets do it our way "
The first Bananarama album, Deep Sea Skiving, contains a song called What a Shambles. In retrospect the title feels as gloriously close to an ethos as the girls needed. 'It wasn't considered at all,' says Keren. 'It was all impromptu.' The first time Bananarama were in a recording studio was with Department S, as backing vocalists. The next was with Sex Pistol Paul Cook, producing their opening shot, a cover of the acrobat crate-diggers favourite, Aie A Mwana. Terry Hall from the Fun Boy 3 bought it and after seeing a photo of them in The Face and loving their moccasins he called them up and asked them to sing on his debut album. He returned the favour by singing on their hit Really Saying Something. Deep Sea Skiving contained the first of their string of immaculate, self penned, ramshackle, charmingly naive pop gemstones. Their natural propensity to talk straight and look great saw frantic commitments across the regal promo schedule of Top of the Pops, Smash Hits, the NME, and The Face. Travelling to their first international commitment in Amsterdam was Keren's first time on an aeroplane. When visiting their record label, penniless, they would often pilfer cutlery, domestic products and whole crates of Dire Straits CDs to sell at the Soho Record and Tape Exchange.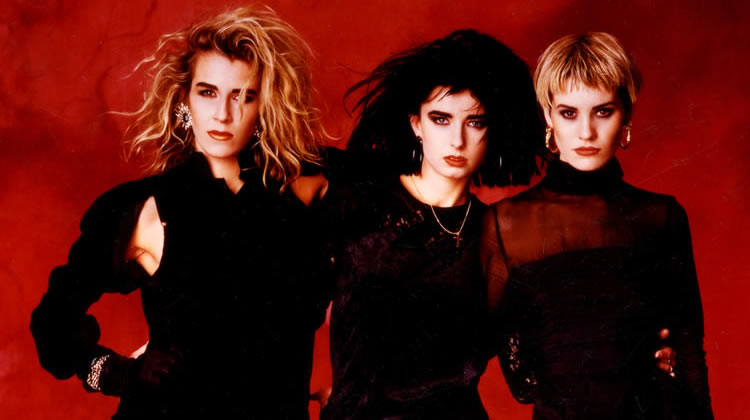 Their associations ran far and wide, from shared club nights with Boy George to songwriting with Paul Weller. 'He liked the fact we weren't showbiz,' says Keren. 'There was nothing we hated more than a premiere,' says Sara. 'It was a time that was pre-marketing and media training and all that bullshit. It was pre all that horrible celebrity culture. It was rebel pop.' By the time they went on their first trip to Los Angeles, to promote the first of their surprise US top ten hits Cruel Summer, they encountered another fan. 'Mike Tyson was sitting on the bonnet of a limo outside the Sunset Marquis,' says Sara. 'Naomi Campbell was there. He started singing Cruel Summer to us! ' In true urchin style we were on our way to the bus stop to catch a bus to the beach, we had plastic bags with our hotel towels and sunglasses in. A bus, to Santa Monica...So English.' She laughs
'We didn't have management half the time,' says Siobhan. 'there was no plan.' And yet their success kept on snowballing, escalating to the turning point in their career, a radical high-nrg reinterpretation of Shocking Blue's Venus fashioned at the Hit Factory with new producers Stock, Aitken and Waterman. They'd been rehearsing the song from the outset. 'when we decided to record it we went to them because we loved Dead or Alive's You Spin Me Round- it's still a phenomenal record- says Siobhan. " Venus" went on to be a number one around the world, including America.
---
"Venus went on to be a number one around the world, including America"
---
With their opening, totemic trio of albums Deep Sea Skiving, Bananarama and True Confessions, Bananarama escalated around the globe, at a previously unseen pace. Their music gradually growing into gleeful, unashamed classic pop. Our 4th album, Wow!, says Siobhan, ' was probably our most coherent album '
But it saw three best friends interests diverging. It was such an intense period. I left at the beginning of '88. We had been living in each other's hair, 24 hours a day for years. We had a tight knit circle. Even our boyfriends were close friends. It got pretty claustrophobic for all of us. It couldn't sustain itself.'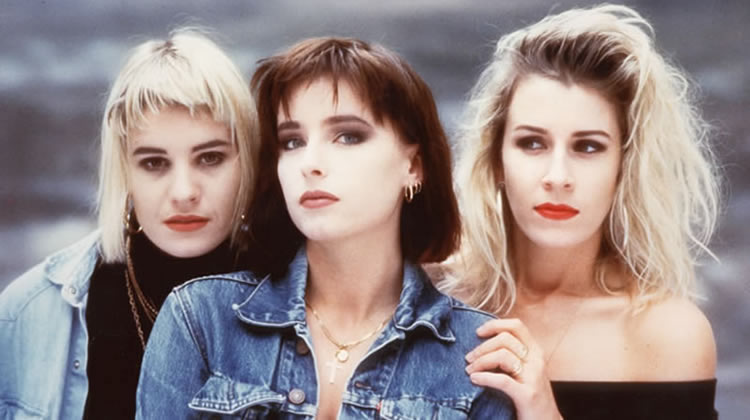 The last Bananarama performance as the original trio was of Love in the First Degree, the song Pete Waterman still maintains is the best record to come out of The Hit Factory and the closest he ever got to realising his dream of forging a modern day Brill Building or Tamla Motown. In the midst of the mayhem, this final curtain call at The Brit Awards was the Hollywood ending the three piece deserved. Flanked by a group of muscled, greased and tanned boys in cycle shorts and black knee socks, in one feminist masterstroke Bananarama inverted strands of misogyny endemic in the music industry in one eye popping extravaganza. The trope would be copied ad infinitum, starting with the immaculate execution of the same idea on Madonna's Blonde Ambition tour the following year.
'It really did raise a lot of brows,' says Keren. 'It was about reversing roles for once.' Noel Edmunds introduced Bananarama that night with a raised eyebrow himself and the words 'You've seen nothing like this.' For Bananarama, it was ever thus.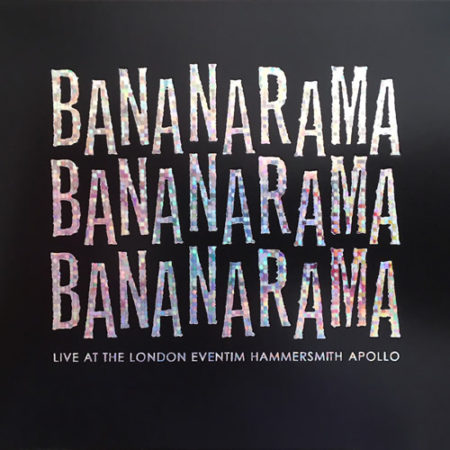 Almost thirty years later, the trio are ready to reassemble for a 2017 UK Tour in a pop reunion only dreamt of in the wildest imaginations by many quarters. For women, gay men and, yes, even some straight too, Siobhan stepping back into her natural habitat once again is pop's very own version of Morrissey and Marr re-uniting. 'It's part of me, part of my history,' says Siobhan, 'and I love what we did and the crazy life we lead. These were my formative years. I never thought it would happen again. It's like going back down the road to find a piece of myself that I left back then. The older I get, the more I realise it was pretty magical. Look what we did. Listen to the records. It's all there.'
Following the wonderful response they've had in the UK, they added 4 North American live dates in February 2018.
Summer Shows 2018 were the 10 final performances as a trio!
We had the best time on our Original Line Up Tour!!!
If you missed the show, or want to relive the memories you can order our DVD & Live album.
With lots of love Sara, Keren & Siobhan xxx
Bananarama - Live On The Original Line Up Tour at Eventim Hammersmith Apollo, London is available on Double Live CD, DVD & BluRay, Triple Vinyl, Deluxe 4 Disc Photobook and Digital.

Bananarama original line up
Date
City
Venue
Country
09/12/17
London
Eventim Apollo Hammersmith
United Kingdom
08/12/17
Brighton
Brighton Centre
United Kingdom
06/12/17
Manchester
02 Apollo
United Kingdom
05/12/17
Sheffield
City Hall
United Kingdom
04/12/17
Oxford
New Theatre
United Kingdom
02/12/17
Southend On Sea
Cliffs Pavilion
United Kingdom
01/12/17
Ipswich
Ipswich Regent
United Kingdom
30/11/17
Brighton
Brighton Centre
United Kingdom
28/11/17
Plymouth
Plymouth Pavilions
United Kingdom
27/11/17
Cardiff
St. David's Hall
United Kingdom
26/11/17
Bournemouth
Bournemouth International Centre
United Kingdom
24/11/17
Nottingham
Royal Concert Hall
United Kingdom
23/11/17
Birmingham
Barclaycard Arena
United Kingdom
22/11/17
Bristol
Colston Hall
United Kingdom
20/11/17
London
Eventim Apollo Hammersmith
United Kingdom
19/11/17
London
Eventim Apollo Hammersmith
United Kingdom
17/11/17
Manchester
02 Apollo
United Kingdom
16/11/17
York
York Barbican
United Kingdom
15/11/17
Newcastle
City Hall
United Kingdom
13/11/17
Blackpool
Opera House
United Kingdom
12/11/17
Glasgow
SEC Armadillo
United Kingdom
11/11/17
Glasgow
SEC Armadillo
United Kingdom
09/11/17
Belfast
The SSE Arena
United Kingdom

Bananarama original line up
Date
City
Venue
Country
24/02/18
New York
Playstation Theatre
United States
23/02/18
Toronto
Danforth Music Hall
Canada
21/02/18
San Francisco
The Warfield
United States
20/02/18
Los Angeles
The Novo
United States

Bananarama original line up
Date
City
Venue
Country
14/08/18
Gothenburg
Liseberg Tivoli
Sweden
10/08/18
Skanderborg
Smukfest
Denmark
04/08/18
Leeds
Millennium Square
United Kingdom
28/07/18
Bolesworth, Cheshire
CarFest North
United Kingdom
21/07/18
Lytham
Lytham Festival
United Kingdom

Bananarama supported Niles Rodgers.

20/07/18
Edinburgh
Edinburgh Castle
United Kingdom
13/07/18
London
British Summer Time, Hyde Park
United Kingdom
29/06/18
Ampthill
AmpRocks 2018
United Kingdom
09/06/18
Emmen
Retropop Festival
Netherlands